Best universal phone holders for bicycles
Best Phone Holders for Bikes in 2021
Learn about some of the best phones holders for bikes for 2021, that will make your cycling experience safer and more enjoyable. No more one-handed riding or having to pull over every time you get a call or need to check your map to navigate. If you use a bicycle and own a phone, you need a phone holder!
We have chosen the three best cellphone holders for bikes that you can buy to make your every ride more uncomplicated and more manageable. So, let's start our review of the best bicycle phone holders by reviewing the cellphone holder by GUB.
This article may contain affiliate links, please read our Affiliate Disclosure for more details.
GUB Aluminum Bike phone Holder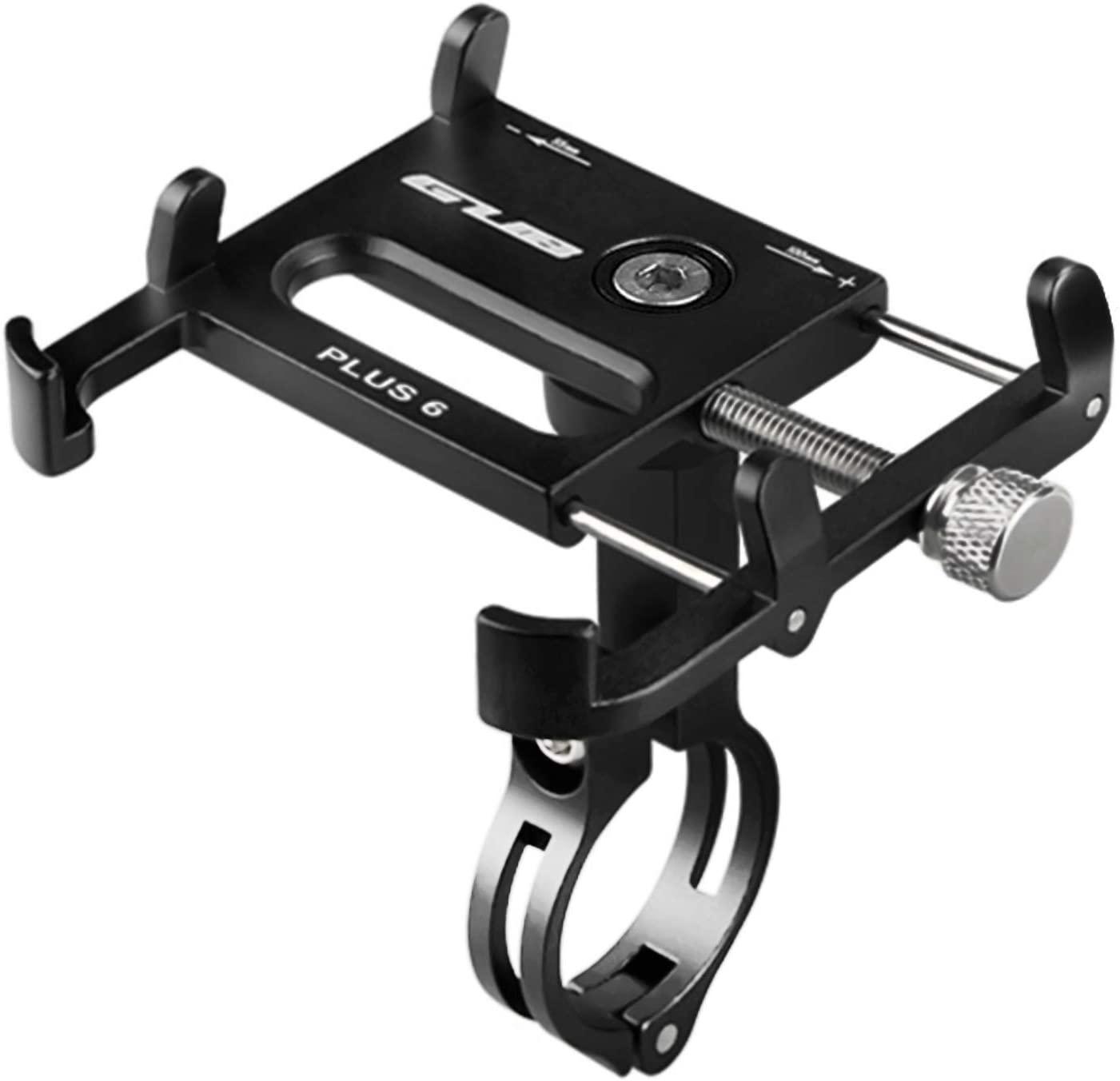 I have used a GUB bicycle phone mount myself for over 2 years on my road and city bike and it has never let me down. There are various reasons behind the fame of GUB cellphone holders. It is compatible with numerous smartphone models, thanks to its adjustable width grip, and with a secure screw tightening mechanism, it provides optimum security to smartphones.
The GUB Aluminum phone mount has three aluminum clamps that offer extra security and keep your phone in a fixed place. The new version is actually an upgrade from the old version that I use, as it also secured the base of the phone - not just the sides.
One can quickly assess the compatibility of the GUB phone mount as you can adjust its clamps from 4 to 7 inches. Thus, if you have any navigation device that is 7-inches long, you don't need to worry about the compatibility of the GUB cell phone holder. 
Best for
Recommended phone holder for road and city cyclists.
Pros
Full metal construction
Solid build quality
Fits 31.8/25.4/22.2 handlebars
Cons
No padding for phone
Slower to lock and release phone
Not easily adjustable
Specification:
Full metal bike phone mount, Universal Compatible use, Heavy Duty Protection, Motorcycle phone mount for all iphones eg iphone 11 pro, iphone 11 max xr xs​
---
---
Pros
Durable
High Build Quality
Compact and Occupies Less Space
Lightweight
Cons
No shock-absorbent material or padding for the phone
Not the fastest open and closing mechanism
ROCKBROS Bike Phone Frame Bag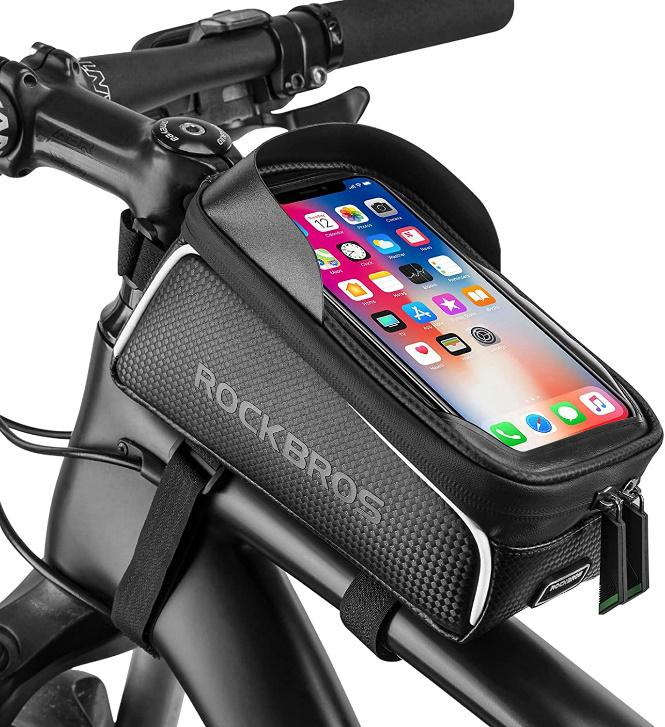 Next is the phone frame bag by ROCKBROS, which is the perfect solution if you are riding a bicycle or bike on a bumpy road. Multiple features make the ROCKBROS phone frame bag one of the best cellphone holders for bikes in 2021.
At the top of the bag, you can use the phone mount to adjust your cell phone securely. Below is the attached bag that serves two purposes. The frame bag protects your phone as it damps the effects of bumps. Also, it gives you extra storage where you can keep your small essential items.
The ROCKBROS bike phone frame bag is the best option for a cell phone holder when it comes to compatibility. Every phone fits perfectly in the ROCKBROS bike phone frame bag, from iPhones, Samsung to Vivo phones.
Best for
Recommended phone holder for casual and recreational cyclists.
Pros
Lightweight
Waterproof (extra cover)
Extra Storage
Compatible
Secures Phone
Cons
Not possible to access side buttons of the phone
Slow to secure and remove phone
Bulky 
Lamicall Bike Phone Holder Mount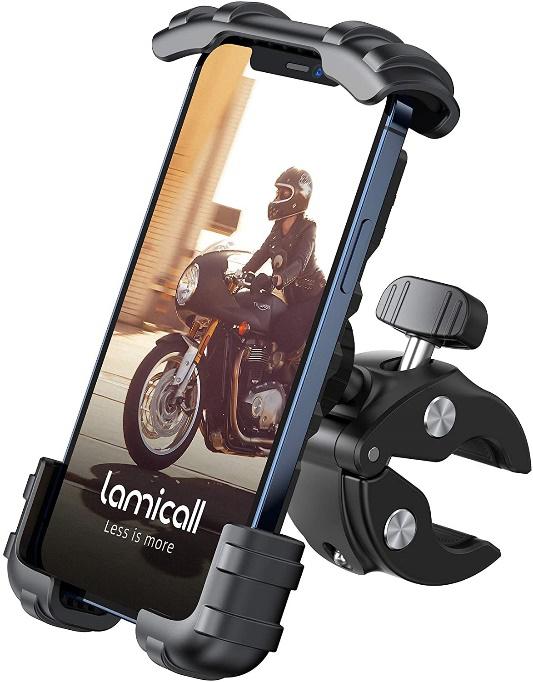 And here is the last cellphone holder for the bike, which is manufactured by Lamicall and famous for its beneficial features to the users. Like GUB and ROCKBROS smartphone holders, the Lamicall phone holder mount is a valuable product to purchase if you are a frequent or off road rider. If you want to access your phone quickly but keep it secure, even on bumpy off-road terrain, the Lamicall bike phone holder is the mount for you.
The Lamicall bike phone holder mount is affordable if compared with other cell phone holders for bikes. It provides maximum protection to the phone and protects it from every possible scratch.
Best for
Recommended phone holder for off road and long distance or daily cyclists.
Pros
Durable materials and build
Fastest to secure and remove phone
Adjustable (360-Degree)
Best for Large Cases
Most universally compatible
Easy to Use
Cons
It is bulkier
Conclusion
In conclusion, if you are looking for a a phone holder mount for:
Road or City cycling, then the GUB Aluminum Bike Phone Holder is a great choice.
If your are a casual rider who sometimes likes to pack other extras like glasses, sunscreen or snacks, the Rockbros phone holder case is an excellent choice.
However, for all round cycling including off road trail riding as well as daily commuting, I personally recommend the Lamical phone mount.